Projects
DISCIPLINE: STUDENT HOUSING
PROJECT NAME: FREEDOM STUDENT APARTMENTS & MIXED USE DEVELOPMENT, 279 GROTE ST., ADELAIDE
The $60m Eight Storey Freedom Apartment Project in Grote St., Adelaide has been approved by the Development Assessment Commission and Planning S.A. and complies with the City of Adelaide Development Plan.
In the effort to supply 60,000 student beds in Adelaide by 2014,this project is a valuable contribution for the S.A.Government and the City of Adelaide supplying 319 single and two bed apartments totalling 463 student beds. Apartments range from 33 sq.m to 57 sq.m.
The project will enhance the "gateway to Adelaide" from the airport, and will mask the "box like" Australia Post building to the east, and replace it with a vibrant contemporary architectural statement, and will be a landmark building in the west end of Adelaide.
The proposal will supply Student Living Administration, Restaurant, Office and Consulting Rooms a variety of self-contained student apartments with multiple views around the skyline of Adelaide. Upper level apartments will enjoy views of sunsets to the west, and the Adelaide Hills to the east, and has landscaped decks for peaceful enjoyment by the students. The facility will have Student Administration Facilities, Communal Dining and Lounge areas, combined with Recreational Breakout Areas, and a Gymnasium. In addition there is provision for 333 sq.m for Consulting Rooms, 532 sq.m of Office Space, and a 250 seat Restaurant.
The site enjoys full service of public transport to access Tertiary education facilities and will have the use of a fleet of "smart cars". The project incorporated ecologically sustainable benefits and has a full team of Project Managers, Architects, Structural, Services and Traffic Engineers. The project will reinforce pro-active development within the City of Adelaide and advance viable sustainable development in South Australia after the global recession.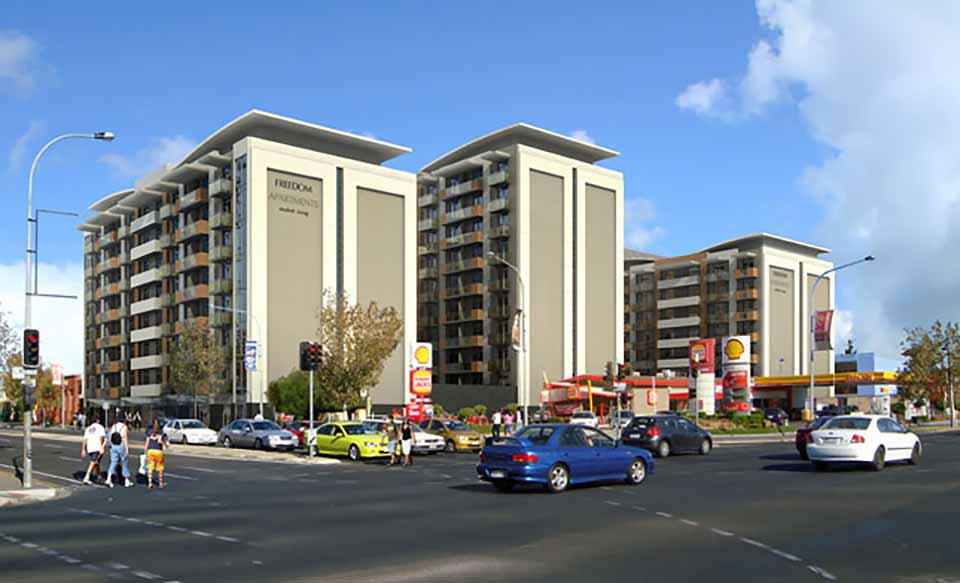 See some of our Other Projects

2/7 Esplanade, Somerton Park SA 5044

Send us a message by filling out the form below and we will reply to your email.