Projects
DISCIPLINE: HOSPITALITY
PROJECT NAME: MAWSON LAKES TAVERN, MAIN STREET, MAWSON LAKES
The format of the design is based on Delfin Real Estate's " Mawson Lakes Town Centre" Brief and the Mawson Lakes Town Centre/University Campus Master Plan prepared by the Denton Corker Marshall Group.
As part of the Design Brief the following were addressed:
The Tavern/Hotel is a key and signature "Landmark " building.

The operation needs to function as a community meeting place such as the "corner pub" where students,residents,and the working population can interact.

Sidewalk drinking.

Facades that open onto the sidewalk.

Balconies over footpaths.

Building to be a minimum of 2 storeys.

Gaming to be addressed tastefully and sensitively.

External signage kept to a minimum.

Access to University was addressed, with the site acting as an interface with the Uni.

Motel accommodation-38 apartments&Conference Facilities.
Materials used in construction were:
Walls: Painted precast concrete panels.

Roofs: Generally low pitch shielded from view with some pitched roof forms.

Windows: Ground floor areas ,stackable bifold doors opening on to "ALFRESCO" Dining areas with pergolas over and vines.

Colours: To meet provisions of B2 Architectural Form- drawn from pallets of yellows, reds, oranges, greens, & browns.
This Award Winning Project was built by Badge Constructions over a period of 6 months, at an approx. cost of $7,000,000.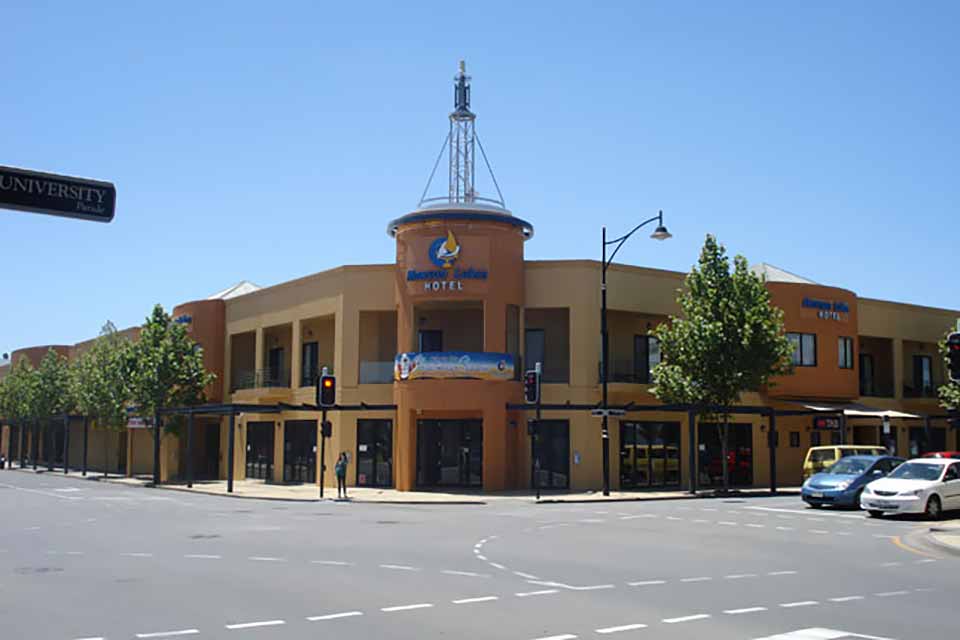 See some of our Other Projects

2/7 Esplanade, Somerton Park SA 5044

Send us a message by filling out the form below and we will reply to your email.