Projects
DISCIPLINE: VEHICLE INDUSTRY
PROJECT NAME: WAYNE PHILLIS KIA & OTHER PROJECTS
The Kia Global SI Space Identity Guide has been developed to define the fundamental rules for Kia dealerships so that consistency is strengthened across markets globally. It provides the overall guidelines for the exterior, interior, layout, sign, material and colour. The Kia Global Space Identity Guide focuses on the overall concept so that it can be easily applied to our numerous dealerships models and markets. We expect the dealership layout and appearance to help make Kia more memorable and appealing in the eyes of consumers. We aim to enhance Kia's brand awareness and familiarity, thereby further improving consumer perception of the Kia brand across all markets.
The design commences with dividing the mass by appropriately using one of the design factors, curved and straight lines and slipping the showroom area into one direction. Transparent front elevation of the showroom enables it to directly communicate with cities and red elevation to breath with cities by its nature of being between transparency and opaqueness.
The side ellipse symbolizes Kia symbol's oval and dynamism of a tunnel connecting two different worlds.
The New Reynella Dealership will be a stunning addition to the precinct at Main South rd. The use of high performance glass, ACM and Exotec cladding, encases the 480sq.m footprint, with Mezzanine overlooking the Showroom facilities.
In addition the practice has performed work on Stillwell's Truck Dealership at Regency Pk., Barry Maney Truck Dealership at Mt. Gambier, Datsun Showroom at Nailsworth and other commissions.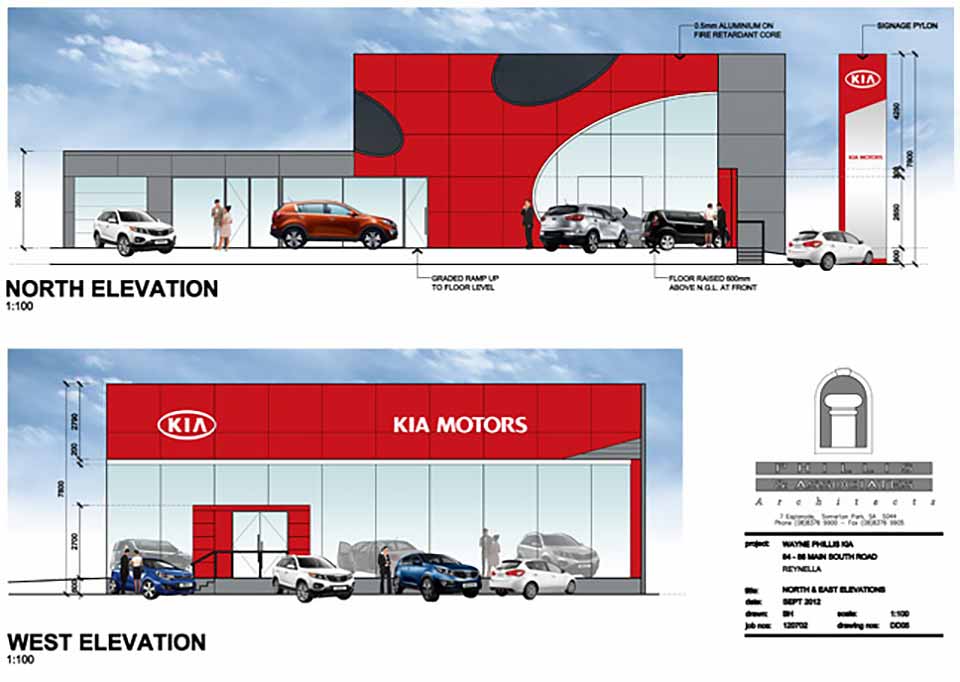 See some of our Other Projects

2/7 Esplanade, Somerton Park SA 5044

Send us a message by filling out the form below and we will reply to your email.